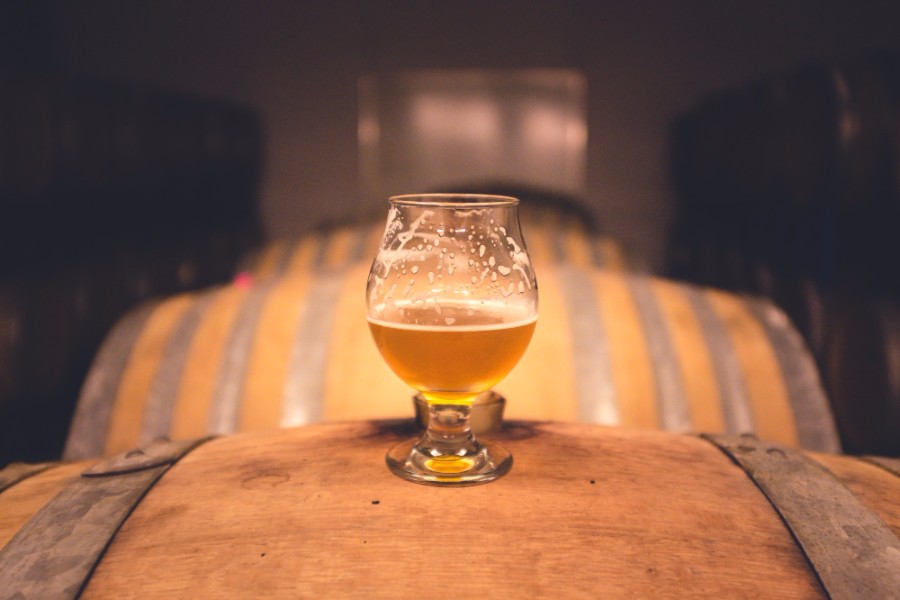 This article was originally published in the May issue of Hospitality Business Magazine.
Over the last decade or so we have seen an explosion in the popularity of extreme beer styles. We've seen beers with alcohol levels as high as wine and sometimes even spirits. When it comes to hops, we've seen the industry go through a virtual IBU arms race as brewery after brewery battled to infuse more and more hop bitterness into every pint. We've also seen brewers comb the history books to revive nearly every forgotten beer style.  And we've witnessed many brewers throw caution (and perhaps good judgement) to the wind in an effort to add strange and exotic ingredients to their brews; including – but certainly not limited to –  oysters, grapefruit, bacon, doughnuts, breakfast cereal and even pizza. But amongst all of the show-boating, historical beer style resurrections, and general extremity of the recent craft beer explosion, the most notable beer style to find new, and seemingly lasting, popularity in recent years has got to be "Sour Beer".
Sour beer is a style that stands alone. Unlike the flavour balance of most traditional beers, which tends to pit malt sweetness against hop bitterness, sour beers have little to no hop presence and instead they taste decidedly tart or – as their name would suggest – sour. While nearly all other beer styles are brewed with Saccharomyces (the fancy name for brewer's yeast), Sour Beer is brewed with an endless combination of bacteria, Saccharomyces, and Brettanomyces (a genus of wild yeast known to contribute both fruity and barnyard-like flavours and aromas). These beers universally strike the first-time drinker as completely contrary to one's expectations of a traditional pint. Their high acid levels, low bitterness levels, long aging times, and the common additions of both fruit and oak, leave many feeling that Sour Beer has more in common with wine than it's more beery counterparts.
At one time all beer was likely sour to some extent, due to the unsterile conditions of brewing prior to the modern era.  Eventually, advances in microbiology would lead to pure yeast cultures and as such, many of the classic beer styles and flavours that we cherish today. However, a small number of brewers in Belgium (and to a lesser extent Germany) kept the Sour Beer traditions alive by flying in the face of modern brewing practices and (at least in Belgium) exposing their Wort (unfermented beer) directly to the air, to be naturally inoculated by the wild yeast and bacteria that are exclusive to their regions. A handful of classic Sour Beers such as Lambic, Flanders Red, Oud Bruin, Berliner Weiss and Gose, hung on to survival only to be reembraced – and to some extent, reinvented – by the modern craft beer movement.
Just a few years ago, the only way to get your hands on a sour beer in New Zealand, was to either be lucky enough to come across one of a small number of Belgian Sour Beers sometimes imported into the country, or to brew one yourself. Bad homebrew jokes aside, the complex processes and long aging times involved with brewing a sour beer make the DIY approach more difficult than it might seem. Today, it's the rare brewery that doesn't have a Sour Beer program of one size or another. Moreover the new world approach to sour beer making (recently christened "American Sour Beer"), has made the style more approachable and often easier to produce. While Sour Beer from Belgium, Germany, America, Scandinavia, Australia, and elsewhere in the world is becoming easier and easier to sleuth out, there are a number of world-class Sour Beer producers right here at home.
Craftwork Brewery
This quaint Oamaru brewery has won numerous awards and quickly built a cult following within just a few short years of the company's inception, and all while brewing on a tiny 50 Litre brewing system in the stone basement of one of the co-founder's home.  Known for brewing small batches of Belgian inspired ales with an emphasis on local and organic ingredients, Craftwork has built quite a reputation as one of New Zealand's more unique and artisan breweries.  Fortunately for us, the availability of these once-hard-to-find beers is on the rise and they can now be found in an increasing number of New Worlds, specialty bottle shops, and online retailers.
Craftwork offers a number of award-winning Sour Beers to choose from such as their much loved "Scotch Bonnet", a Whisky barrel-aged sour brown ale (aka Oud Bruin), and their "Autobarn" which is a sour ale aged in a Gewurztraminer barrels.
While not always easy to find, Craftwork is a brewery worth putting some effort into seeking out. And when you see a bottle on the shelf, grab it. You won't be disappointed.


Moa Brewing Company
Moa Brewing Company is perhaps one of – if not the – best known craft beer producer in New Zealand. Despite being better known for their widely distributed "Original Lager" and their "Session Pale Ale", Moa's veteran head brewer, David Nicholls, has introduced a number of more exotic offerings to their line up in recent years, including a number of Sour Beers, which are all widely available throughout New Zealand due to the company's far-reaching distribution channels.
Moa's Sour beers are released each year as vintages, and the collection has included popular beers such as their Sauvignon Blanc-based "Sour Grapes", "Rum Barrel" (a Rum barrel-aged Belgian Dark Strong), their Cherry Lambic inspired "Cherry Sour", and "Sour Blanc", a more traditional Lambic inspired ale.
Moa's collection of Sour Beers is a good place to start for the uninitiated. Their Sour Beers are relatively easy to find, approachable, and with a head brewer like David Nicholls, you can count on a well-brewed, high-quality beer.


8 Wired
With the largest barrel program in the Southern Hemisphere it should be no surprise that Warkworth's 8 Wired Brewing Company has produced an impressive collection of Sour Beers over the last few years.
Some of the mouth puckering offerings from 8 Wired that you might consider seeking out are; "Gypsy Funk" (a dry-hopped, barrel-aged, sour Pale Ale), "Wild Feijoa" (a sour ale brewed with feijoas & aged in wine barrels), "Sour Poppy" (a kettle-soured version of their Red IPA), or if you're in the mood for something lighter then try "Hippy Berliner" (A refreshing and fruity tasting beer inspired by traditional Berliner Weisse ales).
8 Wired's Sour Beer program is one of the largest and boldest in New Zealand. If Sour Beer is your thing, then make some room in your beer fridge for any one of their microbiologically adventurous creations. They are some of the best that New Zealand has to offer.