This article was originally published in the March issue of Hospitality Business Magazine.
There are few individuals in New Zealand's craft beer scene that can truly be called industry veterans. With over thirty years of experience, a career that has spanned the globe and having overseen the mash tuns of both macro-beer giants and craft beer startups alike, David Nicholls is one of those few.
As Moa Brewing Company's head brewer since 2007, this last December marked his thirtieth year in the industry. It's a career that began when the young New Zealander brewed his first batch of beer as a mere teenager, and which has gone on to have a major impact on New Zealand's craft beer landscape.
Recently, I had a chance to catch up with David to ask him about his career, and to get his perspective on the brewing industry; past, present, and future.
Asked how he got into the industry, David laughed: "Well, I had an affiliation with alcohol. I started home brewing when I was fourteen. That was pretty basic stuff, but I sort of seriously got into it when I was at university."
He explained that while at university, he studied biotechnology.  After leaving university, with an honors degree in biotech, he was offered his choice of three jobs: Trainee brewer with DB Breweries, trainee wine maker with Montana Wines, or a water technologist at a fish farm. With a keen interest in fermentation and with New Zealand's wine industry still in its infancy, the choice was simple for David. Soon Nicholls was on his way to Palmerston North to work for DB Breweries, where he would eventually go on to become brewery manager.
"I sort of worked my way through the management ranks there," David explained. "After five years as site manager. The next logical progression was to go to the larger brewery in Auckland. But I also put my hand up to jump into the expat circuit with Heineken. Heineken was the owner of DB, via Asia Pacific Breweries, and I was offered a roll as brewery manager in Port Moresby in Papua New Guinea."
I asked David what it was like brewing beer in Papua New Guinea, a place renowned for being one of the most violent countries in the world.
"We really enjoyed it, actually," said Nicholls. "A lot of people raise their eyebrows but we had a lot of fun there. Being a keen scuba diver, diving in pristine reefs on World War II wrecks; it was pretty cool.  But [Papua New Guinea] had its challenges.  Security and safety issues were fairly eye opening to start off with. We were told by the Heineken security consultants that Port Moresby at the time was the most dangerous capital city outside of a warzone. But you got used to it. Your sixth sense developed very quickly, but that still didn't prepare me for week one when a clerk came into my office and asked if he could have some sick leave because he had been shot through the shoulder the night before. He pulled down his shirt and sure enough, he had a bullet hole in his shoulder.
We had a sixth story condo overlooking the Coral Sea. It was really picturesque. The only difference was that it was surrounded by razor wire, and at nights there were dogs that patrolled. We also had full time security guards. It was like living in a condo anywhere, accept everything was barred and we had what was commonly referred to as a 'rape gate' between the living area and the bedroom so you could lock yourself in at night."
Eventually David transferred to St Lucia where he became the "technical director for the Caribbean". But after four years and an inexplicable death threat, he decided that it was time to leave both the Caribbean, and the corporate world: "A lot of New Zealand, Australian, and South African expats are out there earning money so they can come back to their home country to enjoy the lifestyle that they want to enjoy", said Nicholls. "I basically came back to purchase a vineyard and retire. Very soon after arriving back in New Zealand, we purchased a property in Blenheim.  I had been back for about nine months, when I met Josh Scott (Moa Brewing Company Founder) after a wine and food fest, and the rest is history.
I asked David how working in the craft beer world differed from working for the Macro beer companies like Heineken?
Nicholls replied wryly: "I was with DB/Heineken for twenty years and I'm quite lucky that I was able to develop two new beers in that time.  This week I'm doing one… two… three new beers (at Moa). So that's one of the things. The [smaller] scale means that you can be a lot more creative. But in saying that, you've still got to be able to produce the same beer, in the same way. Because your customers are still expecting a Moa Pale Ale to be a Moa Pale Ale, or a Moa Methode to be a Moa Methode. They don't want to be surprised every time they open a bottle and have a different beer in front of them. So there are still some of the same principles. It's just on a different scale. [With Moa] I've got the opportunity to really let loose, like with our sour program and our barrel program. I spent twenty years trying not to grow lactobacillus and now I'm actively trying to grow it."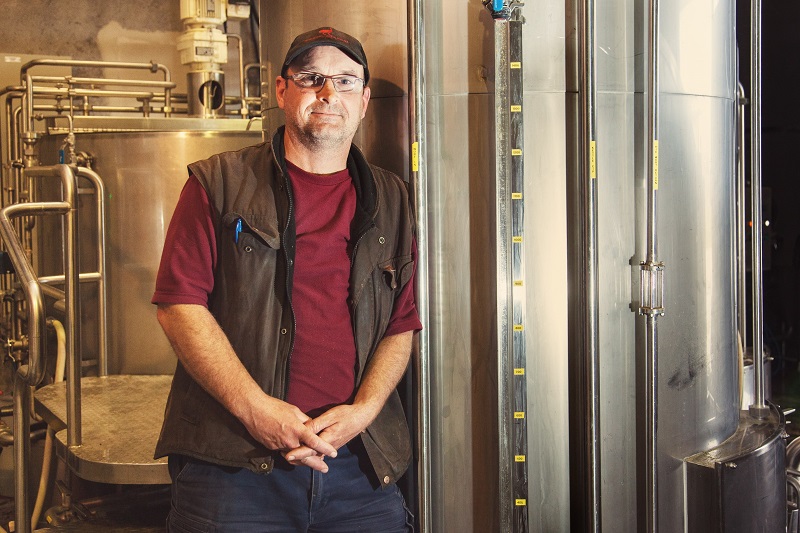 I pointed out to David that while most countries have a beer style or approach that they are known for, New Zealand doesn't seem to have a style that is as obvious as say Pilsner is to the Czech Republic or a Bitter is to England. Even Australia has recently been recognized in the BJCP (Beer Judge Certification Program) for their sparkling ale. I asked him if he had any thoughts on what style, or aspect of beer, is uniquely New Zealand. If he was tasked to write a style descriptor for "New Zealand Beer", what would he write? Or, I wondered, has a definitively unique New Zealand style even emerged yet?
David considered it, and then answered, "I don't think one has emerged. I would put it down to New Zealand hops and the unique tropical fruit characters that they bring. I would say that the uniqueness is the way that we're using those. Whether that's in an IPA, or whether that's in a Pilsner; I think the use of those hops is what sets us apart. I'm not a style Nazi so I don't really get hung up on whether it's this or that. I make what I like and try and fit it into a box later on. But yeah, I would put it down to the use of New Zealand hops. I think as Kiwi brewers we're good at creating fusion beers. For example, tomorrow I'm brewing a Belgian Blanc for March Fest. But it's a Belgian Blanc with New Zealand, Australian, and American hops, and it's going to be a little more hop-centric than your normal Belgian Blonde. That's what I'd say sets us a little bit a part. We're willing to bend the rules a bit on what can and can't be done.
As a brewer who has reached the pinnacle of the industry, I asked David what accomplishment or contribution to the industry he was most proud of:
"Each brewery had it's own challenges and points of satisfaction. In Papua New Guinea it was just surviving," Nicholls laughed. "But probably at Moa it's the consistent quality of what we're doing, but also it's the sour beers that I am most proud of. I've always enjoyed good Belgian Lambics, right from the time that I first started traveling with Heineken and getting exposed to some nice Belgian beers. Recently, I took a Belgian brewer on a tasting of our range, and the ultimate compliment that he paid me was that I was making Belgian beers better than the Belgian brewers. I was pretty chuffed with that. And you know, we have had numerous accolades over my time at Moa, and I'd like to think that those are part of what I've brought to the table."
"New Zealand's craft beer industry has undergone a tremendous transformation over the last decade. We've gone from being a country in which choice was largely limited to the range offered by just a handful of brewing conglomerates, to being a country that now has more brewing companies per capita than the United States."
"But the industry has exploded rapidly, and has boomed with creative entrepreneurs, many of which are new to the industry and are driven by creative passions rather than skill and experience. That is part of any revolution, and makes for an exciting time in any industry, full of the very kind of rule-breaking that leads to genuine innovation."
But there is something to be said for skill, knowledge, and experience. David Nicholls is one of the true veterans of the New Zealand brewing industry. While the craft beer industry in New Zealand will undoubtedly see many ebbs and flows as it continues to grow and evolve, there is one thing that is clear: Brewers like David Nicholls have helped pave the way, and define the growing industry that is New Zealand craft beer.