This article was originally published in the February issue of Hospitality Business Magazine.
Beer is not just the world's most widely consumed alcoholic beverage; it's art. The average craft brewer typically draws from their inner well of creativity and combines flavours, ideas, and traditions in an effort to make a statement and hit a specific mark. It's clear that beer has evolved to be viewed as an artisan product; often more akin to a fine wine then its fizzy yellow for-bearers.
But perhaps no other aspect of beer invites more comparisons to wine than the increasingly popular act of aging beer in oak barrels. It's safe to say that historically nearly all beer was aged in wood barrels of one sort or another. Stainless steel is a relatively modern invention, and so much like wine, wood was the vessel of choice when it came to the fermentation, storage, and transport of beer.
However, with the industrial revolution came stainless steel and soon breweries were trading in their wooden barrels for the convenience and consistency of the shiny metal tanks of which we are all so familiar. While there have been a few notable holdouts, such as many of Belgium's sour beer producers (Cantillon and Rodenbach to name a few), and even the world famous Pilsner Urquel brewery which used pitch-lined oak casks until fairly recently, for the most part, wood, and it's flavour contribution to beer, had become a thing of the past.
That is of course until the craft beer movement began to take shape in the nineteen nineties and brewers started experimenting with both new and old ingredients and brewing processes in an effort to always be offering the adventurous palate of the craft beer drinker something new and exciting.
With wood being such a key flavour contributor to both spirits and wine, each barrel has a fairly limited lifespan. Eventually, too much of the oak and char flavour is stripped from the wood and the barrel is promptly turned into a planter, overpriced man-cave furniture, or (lucky for us) is acquired by a craft brewer who – looking for a smaller contribution from the oak – can squeeze a few more years of life from said barrel.
Most would agree that the craft beer world saw a re-emergence of wood aged beers in the form of the still very popular bourbon barrel-aged imperial stout. Though more recently the popularity of wood aged beers has exploded due to the increasing interest in sour and "funky" beers. In a sour beer the wood is more than just a flavour component, it's a home for the many organisms that are key to the beer's flavour profile.
To get an insider's perspective on the popularity and process behind one of the craft beer world's hottest trends, I could think of no one better to speak with than Søren Eriksen of 8 Wired Brewing Company; home to what is said to be the brewing industries largest barrel program in the southern hemisphere.
We began our conversation with the obvious question: Why age beer in wood barrels?
"There are certain styles of beers that are more or less required to be aged in wood, in order to be what they are supposed to be", said the Warkworth brewer. The wood imparts flavours and creates a certain environment for bacteria, wild yeast and other microbes to grow and be happy."
Søren explained, "If you want to make a traditional style sour beer for example, [a style often aged for several years before being sold], wood is usually the best medium for that. The other reason to do it is that it's much cheaper to age the beers [for long periods of time] in a second hand wine barrel than to do it in expensive stainless steel tanks. And the results should be different in the end."
I asked Søren what kind of flavour contribution the oak barrel lends to the beer: "The wood itself imparts a lot of vanilla tones," he explained. "If you try a glass of bourbon, a lot of the flavours that you get in there are fully wood derived. Those kind of sweet vanilla, toasted, coconutty kind of flavours are what you would get from the wood."
Erickson emphasized the fact that the barrels they (and other breweries) use are typically acquired late in their lifespans. "Usually the wood that we use is a retired wine barrel that has been used for several years to age wine. There are not a lot of actual wood flavours left in there. So then it comes down more to fermentation characteristics. Wood allows in oxygen at a very, very slow rate. Specific yeast and bacteria, that enjoy having a small influx of oxygen over time, produce fermentation characteristics such as esters, different fruity flavours, and also acids. So something like acetic acid for example, can't form without oxygen being present. Hopefully you wouldn't get too much acidity because then you'd be drinking vinegar, but a little hint is nice in certain beers. It's a very complex matter that's hard to explain in one sentence."
8 Wired brewery is home to over two hundred and fifty oak wine barrels and another seven foeders (large vertical wooden casks used in brewing) that range from two to four thousand liters, and they produce a wide variety of highly regarded barrel-aged beers. I asked Søren if he might give us some insight into their process, what kinds of beers their barrel program is producing, and the impact of the barrel on each of those beers.
"The first barrel-aged beer we ever made was an Imperial Stout", Erikson explained. "We got those barrels from Epic Brewing Company. When Epic started using these particular barrels, they were brand new. They did an IPA and a Stout and then they retired the barrels, and we bought them. They were pretty much still just raw [toasted] oak. So the flavours you got out of them were those classic bourbon flavours. Those beers were clean [no wild yeast or bacteria present], and they still are five years later.  We did a second batch of Imperial stout, and then a smoked Imperial Porter. So we're talking three very dark, very big beers that went into those barrels to start with, and then those barrels were incorporated into our sour beer program." He explained that all of the other barrels in the brewery are "sour", or intended to be sour, and that all but those first three barrels were ex-wine barrels.
The list of beers that 8 Wired has since produced using oak barrels or vats has gone on to include their "Wild Feijoa Sour Ale", "Batch 2.18 Oak Aged Imperial Stout", "Rewired Unchained" Brett Fermented IPA, their new "Sour Side of the Moon" Flanders Black Ale, and a soon to be released "Le Fut" Flanders Red Ale, amongst others.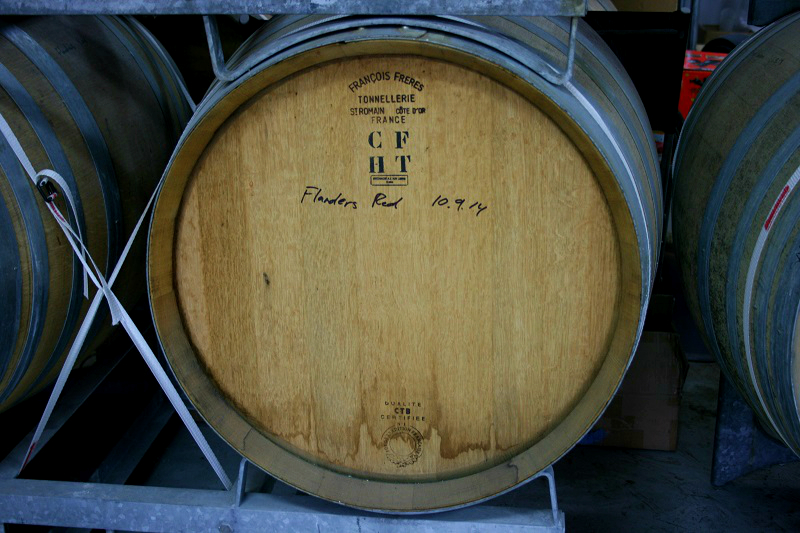 I asked Søren what styles of beer he felt were most complimented by barrel aging: "It can be virtually anything if you do it right. If you have the right barrels, the right beer, and time, there is probably nothing that wouldn't be complimented by barrel aging in one way or another. But definitely sour beers are very good, because of the complexity you get from the various microorganisms and the porousness from the wood. But also big beers, like Imperial Stouts and so forth, if you can get a clean bourbon barrel. You probably want to be careful with hoppy beers because of the oxidation that does happen. It's got to be a beer that can handle some age."
There's no question that barrel-aged beers are one of the industries hottest trends at the moment, one that seems certainly here to stay. While 8 Wired has made their mark as New Zealand's largest producer of barrel-aged beers, other brewers around the world have emerged in recent years boasting similar, and even larger barrel programs of their own. The list includes highly regarded breweries like Firestone Walker, Russian River, and The Rare Barrel just to name a few. Furthermore, the barrels used to age beer have expanded beyond just wine and bourbon to include Rum, Tequila, and even Gin.
There is nothing quite like the first sip of a barrel-aged beer. So completely different to the traditional lagers and pale ales that most are familiar with, a beer aged on oak is something bold, wild, and complex. Pouring a barrel-aged beer is the libationary equivalent of wiping the dust from a treasured old book before diving in for a good read. It's beer, but it's also art, culture, and perhaps most significantly, time. Proving, once and for all, the old adage that "good things come to those who wait".