My third brew in what has officially been dubbed "Project NHC" was a bit of an accident gone right. My original plan was to brew a full batch of Jamil's Belgian Specialty Ale from Brewing Classic Styles; A dry-hopped Belgian Pale Ale with Brett added in secondary. I would be using WLP510, but in order to get my cell count up I was going to need to make a starter. Not wanting to waste all that effort I decided to make an all DME Belgian Pale Ale. As an all-grain brewer who has only ever made a single extract beer (with grain) – and who was surprised by how well that beer turned out – I wanted to push things a wee-bit further and see what a beer made from 100% DME would taste like. I figured worst case scenario, I dump the beer and have my yeast for the next batch. Best case scenario, I also get a decent beer out of it. As it turns out, it was the latter.
While perhaps not the most complex beer I've ever tasted, I was surprised by how well this turned out. In a tasting line-up with six other professionally brewed Belgian Pale Ales, the beer completely held it's own, being better than many in the line-up by all accounts of those who participated in the tasting.
These last two brews have definitely shown me that extract is not to be feared, and very good quality beers can be made using DME. This is something I would not have believed prior to these recent experiments and it's something I expect to be playing with more in the future; if for no other reason than it allows me to brew up a full batch of beer in less than two hours, making late night brew sessions a possibility.
Here's what the BJCP has to say about style 24B, Belgian Pale Ale:
From the BJCP 2015 guidelines: "A moderately malty, somewhat fruity, easy-drinking, copper-colored Belgian ale that is somewhat less aggressive in flavor profile than many other Belgian beers. The malt character tends to be a bit biscuity with light toasty, honey-like, or caramelly components; the fruit character is noticeable and complementary to the malt. The bitterness level is generally moderate, but may not seem as high due to the flavorful malt profile."
RECIPE
Batch size: 6 litres
Starting gravity: 1.048
Final gravity: 1.011
ABV: 5.0%
SRM: Calculated was just 7, but by my estimate it was approximately 14
IBUs (Rager Formula): 25 IBU
Boil: 60 Minutes
0.6 KG Briess Amber Malt DME
0.13 KG Breiss Golden Light DME
0.1 KG Breiss Bavarian Wheat DME
9 grams Styrian Goldings (Styrian) 4.9% @ 60
5 grams Styrian Goldings (Styrian) 4.9% @ 10
WLP510 – Belgian Bastogne Ale
Fermented at 18°C but after 48 hours I started raising temperature by half a degree each day until I hit 21°C.
Cold crashed after approximately 8 days and bottled, using one coopers carb drop per 330ml bottle.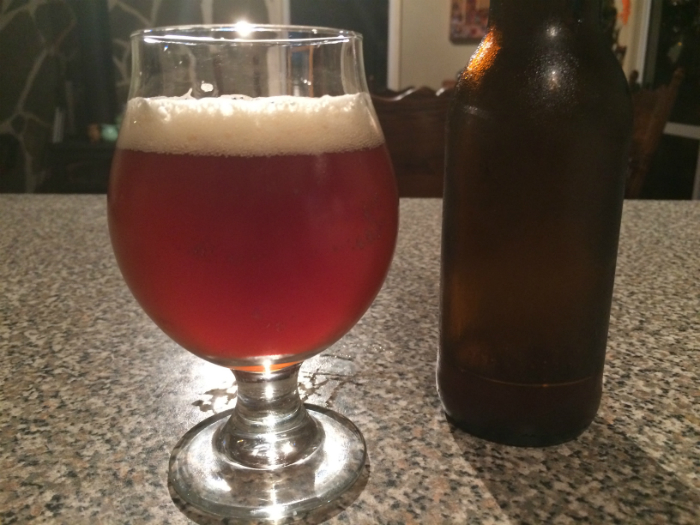 NOTES:
Feb 6th 2016: Pitched an entire vial of WLP510 into what was only a little over four liters, and had activity within approximately 12 hours. The fermentation seemed healthy and proceeded without incident.
March 8, 2016: The picture above is misleading and suggests that the beer was cloudier than it actually was. There was a touch of chill haze on the early samples of the beer, but once it warmed up a tad it was a beautifully clear copper beer with a reasonably persistent creamy off-white head. Very mild on the spicy phenolics we often associate with Belgian strains and rich with banana and pear esters (as is said to be typical of WLP510). I could perhaps detect the tiniest amount of a dusty malt-ball-like flavour on the finish that I believe came from the DME, but it was more than compensated by the beers positive qualities.
A very modest, but enjoyable beer that falls squarely within the BJCP style guidelines for a Belgian Pale Ale. The beer perhaps lacked the fresh malt and biscuity quality it would have likely had if it was an all-grain beer, and if I was to brew it again I might push the late hop charge just a bit. But over all I was very happy with this beer and only wish I had more bottles of it left. I have a few saved for NHC and the rest disappeared quite quickly. If I was ever in a rush to crank out a Belgian session beer I wouldn't hesitate to brew this again. It will be interesting to see how the beer holds up over time given it's lack of complexity and the low IBU level.
Leave a comment below if you have any questions about the recipe or process.