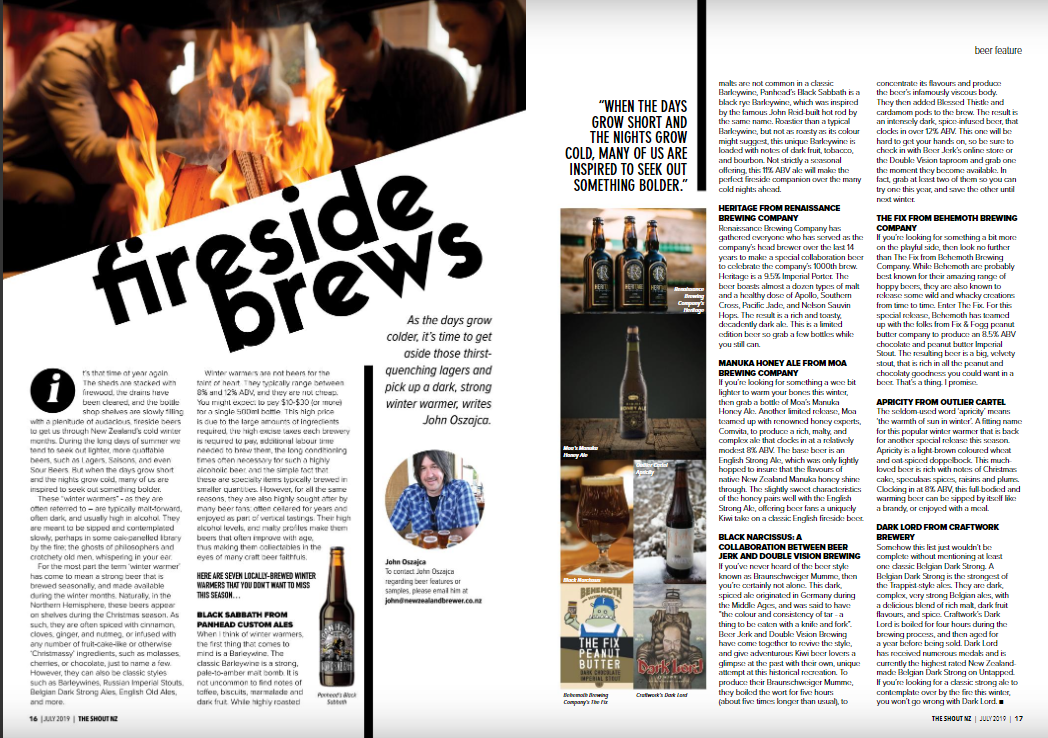 This article was originally published in the July edition of the Shout NZ.
It's that time of year again. The sheds are stacked with firewood, the drains have been cleared, and the bottle shop shelves are slowly filling with a plenitude of audacious, fireside beers to get us through New Zealand's cold winter months. During the long days of summer we tend to seek out lighter, more quaffable beers such as Lagers, Saisons, and even Sour Beers. But when the days grow short and the nights grow cold, many of us are inspired to seek out something bolder.
These "Winter Warmers" – as they are often referred to – are typically malt-forward, often dark, and usually high in alcohol. They are meant to be sipped and contemplated slowly, perhaps in some oak-panelled library by the fire; the ghosts of philosophers and crotchety old men, whispering in your ear.
For the most part the term Winter Warmer has come to mean a strong beer that is brewed seasonally, and made available during the winter months. Naturally, in the Northern Hemisphere these beers appear on shelves during the Christmas season. As such, they are often spiced with cinnamon, cloves, ginger, and nutmeg, or infused with any number of fruit-cake-like or otherwise Christmassy ingredients such as molasses, cherries, or chocolate, just to name a few. However, they can also be classic styles such as Barleywines, Russian Imperial Stouts, Belgian Dark Strong Ales, English Old Ales, and more.
Winter Warmers are not beers for the faint of heart. They typically range between 8% – 12% ABV, and they are not cheap. You might expect to pay between $10 – $30 (or more) for a single 500ml bottle. This high price is due to the large amounts of ingredients required, the high excise taxes each brewery is required to pay, additional labour time needed to brew them, the long conditioning times often necessary for such a highly alcoholic beer, and the simple fact that these are specialty items typically brewed in smaller quantities. However, for all the same reasons they are also highly sought after by many beer fans; often cellared for years and enjoyed as part of vertical tastings. Their high alcohol levels, and malty profiles make them beers that often improve with age, thus making them collectables in the eyes of many craft beer faithfuls.
HERE ARE 7 LOCALLY BREWED WINTER WARMERS THAT YOU WON'T WANT TO MISS THIS SEASON…
BLACK SABATH FROM PANHEAD CUSTOM ALES
When I think of Winter Warmers, the first thing that comes to mind is a Barleywine. The classic Barleywine is a strong, pale to amber malt bomb. It is not uncommon to find notes of toffee, biscuits, marmalade and dark fruit. While highly roasted malts are not common in a classic Barleywine, Panhead's "Black Sabbath" is a black rye Barleywine, which was inspired by the famous John Reid-built hot rod by the same name. Roastier than a typical Barleywine, but not as roasty as its colour might suggest, this unique Barleywine is loaded with notes of dark fruit, tobacco, and bourbon. Not strictly a seasonal offering, this 11% ABV ale will make the perfect fireside companion over the many cold nights ahead.
HERITAGE FROM RENAISSANCE BREWING COMPANY
Renaissance Brewing Company has gathered everyone who has served as the company's head brewer over the last 14 years to make a special collaboration beer to celebrate the company's 1000th brew. "Heritage" is a 9.5% Imperial Porter. The beer boasts almost a dozen types of malt and a healthy dose of Apollo, Southern Cross, Pacific Jade, and Nelson Sauvin Hops. The result is a rich and toasty, decadently dark ale. This is a limited edition beer so grab a few bottles while you still can.
MANUKA HONEY ALE FROM MOA BREWING COMPANY
If you're looking for something a wee bit lighter to warm your bones this winter then grab a bottle of Moa's Manuka Honey Ale. Another limited release, Moa teamed up with renowned Honey experts, Comvita, to produce a rich, malty, and complex ale that clocks in at a relatively modest 8% ABV. The base beer is an English Strong Ale, which was only lightly hopped to insure that the flavours of native New Zealand Manuka honey shine through. The slightly sweet characteristics of the honey pairs well with the English Strong Ale, offering beer fans a uniquely Kiwi take on a classic English fireside beer.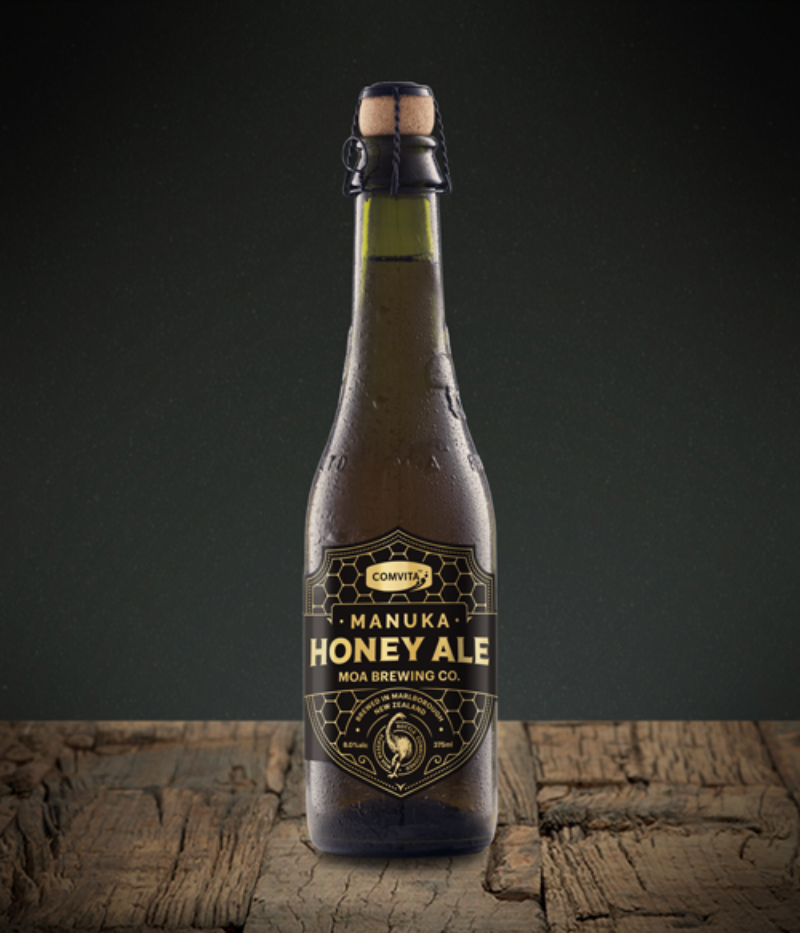 BLACK NARCISSUS: A COLLABORATION BETWEEN BEER JERK AND DOUBLE VISION BREWING
If you've never heard of the beer style known as "Braunschweiger Mumme" then you're certainly not alone. This dark, spiced ale originated in Germany during the Middle Ages, and was said to have "the colour and consistency of tar—a thing to be eaten with a knife and fork." Beer Jerk and Double Vision Brewing have come together to revive the style, and give adventurous Kiwi beer lovers a glimpse at the past with their own, unique attempt at this historical recreation. To produce their Braunschweiger Mumme they boiled the wort for 5 hours (about 5 times longer than usual), to concentrate its flavours and produce the beer's infamously viscous body. They then added Blessed Thistle and cardamom pods to the brew. The result is an intensely dark, spice-infused beer, that clocks in over 12% ABV. This one will be hard to get your hands on, so be sure to check in with Beer Jerk's online store or the Double Vision taproom and grab one the moment they become available. In fact, grab at least two of them so you can try one this year, and save the other until next Winter."
THE FIX FROM BEHEMOTH BREWING COMPANY
If you're looking for something a bit more on the playful side this winter then look no further than "The Fix" from Behemoth Brewing Company. While Behemoth is probably best known for their amazing range of hoppy beers, they are also known to release some wild and whacky creations from time to time. Enter "the Fix". For this special release Behemoth has teamed up with the folks from Fix & Fogg peanut butter Company to produce an 8.5% ABV Chocolate and Peanut Butter Imperial Stout. The resulting beer is a big, velvety stout, that is rich in all the peanut and chocolaty goodness you could want in a beer. That's a thing. I promise.
APRICITY FROM OUTLIER CARTEL
The seldom-used word "apricity" means "the warmth of sun in winter". A fitting name for this popular winter warmer that is back for another special release this season. Apricity is a light-brown coloured wheat and oat spiced-doppelbock. This much-loved beer is rich with notes of Christmas cake, speculaas spices, raisins and plums. Clocking in at 8% ABV, this full-bodied and warming beer can be sipped by itself like a brandy, or enjoyed with a meal.
DARK LORD FROM CRAFTWORK BREWERY
Somehow this list just wouldn't be complete without mentioning at least one classic "Belgian Dark Strong". A Belgian Dark Strong is the strongest of the Trappist-style ales. They are dark, complex, very strong Belgian ales with a delicious blend of rich malt, dark fruit flavours, and spice. Craftwork's Dark Lord is boiled for 4 hours during the brewing process, and then aged for a year before being sold. Dark Lord has received numerous medals and is currently the highest rated New Zealand-made Belgian Dark Strong on Untapped. If you're looking for a classic strong ale to contemplate over by the fire this winter, you won't go wrong with Dark Lord.